Unlocking the password for health and longevity, NYO3 continues to promote nutritional upgrades
Nordic Norway is known for its longevity, its natural and pure life philosophy and health products. In China, in order to promote Chinese people's in-depth understanding of Norwegian health products, the Norwegian Embassy in China led the establishment of the Norwegian Health Products Group (NHPG). Norwegian brands like NYO3 jointly open up the Chinese market and promote the promotion of Norwegian brands in China.
On June 24, Innovation Norway joined hands with many Norwegian companies and brands to hold the "Norwegian Health Products Display Month" event at the duty-free shop of the Beijing Diplomatic Service Bureau, attracting many users to check in and visit. NYO3, a high-end dietary nutrition brand from Norway, made an appearance at the event, bringing the pure natural brand concept and unique marine phospholipid nutrition to the event site, helping more users to understand and appreciate the healthy lifestyle from northern Europe.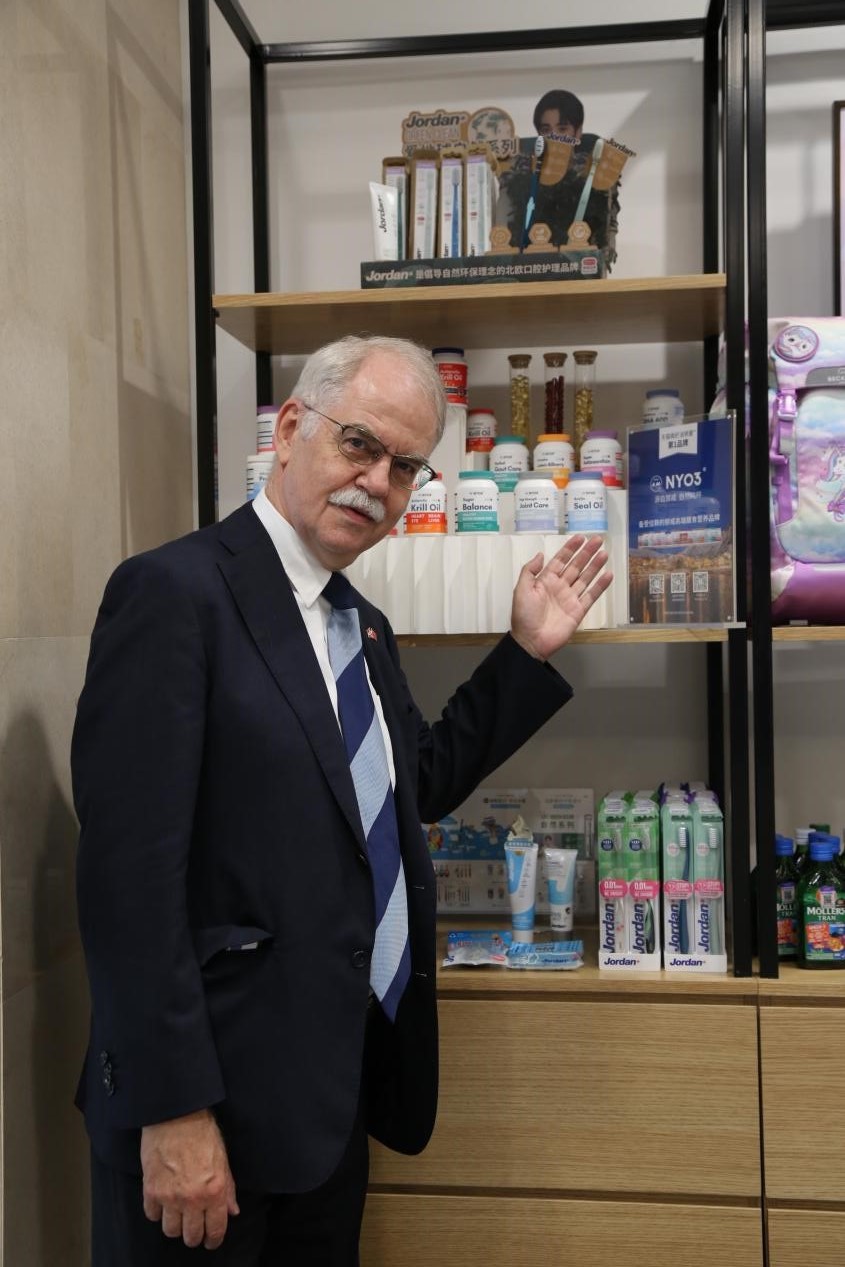 Unlocking the password for health and longevity, NYO3 continues to promote nutritional upgrades
As an indispensable part of Nordic longevity nutrition, the quality genes of NYO3 have been engraved into the bone marrow since the birth of the brand. In 1911, the Norwegian polar explorer Amundsen reached the South Pole for the first time, and the prelude of human beings obtaining nutrients from the extremely cold environment was unveiled. Among them, the marine phospholipid type OMEGA-3 from Antarctica was scientifically proven to be more conducive to human absorption. Then, together with salmon and berries, it became the "Norwegian Three Treasures" that bring longevity and nutrition to Norwegians.
NYO3 means "Norway's new nutrition represented by OMEGA-3", adhering to the brand concept originating from Norway and pure nature, and is committed to delivering a Norwegian-style healthy lifestyle. Its star product is pure Antarctic krill oil, 80% OMEGA-3 high Pure fish oil and pure arctic seal oil are popular in domestic and foreign markets due to their efficacy in lowering blood lipids, improving antioxidant capacity, and preventing and controlling cardiovascular and cerebrovascular diseases. In Norway, NYO3 pure Antarctic krill oil enjoys the reputation of Norway's "New National Treasure". In China, pure Antarctic krill oil products have occupied the No. 1 sales in the Tmall International Krill Oil category for 12 consecutive months, leading the new health category. consumption trend.
Taking national health first, delivering the Norwegian concept of healthy life
Under the tuyere, health products are ushering in a golden age of rapid development. Concerned about the nutritional health and safety of the whole people, NYO3 brand actively participates in major brand activities with a forward-looking vision, and conveys the concept of healthy nutrition originating from Norway. On December 4, 2021, NYO3, as one of the 12 Norwegian brands that entered the Norwegian Embassy, was invited to participate in the "Winter Market" Open Day Event of the Norwegian Embassy in China; on February 26, 2022, NYO3 was invited to the Shanghai General Office. The consulate participated in the Norwegian Winter Spring Festival, attracting the Consul General of Norway in Shanghai to stop and visit. The Norwegian Innovation Agency and the Beijing Diplomatic Duty Free Store jointly organized the "Norwegian Health Products Display Month" event, and NYO3 once again shined.
Not only that, NYO3 has participated in the China International Import Expo three times, reached strategic cooperation with platforms such as Tmall International and Douyin, and joined hands with authoritative organizations and industry scholars to jointly advocate the new concept of nutritious diet, with refined and high-quality product ecological chain. , which has gained wide attention from the industry and users at home and abroad.
NYO3 has outstanding quality and strength, and comprehensively deploys high-end dietary nutrition
As the transmitter of healthy lifestyle in Norway, NYO3 implements the natural and pure brand concept into production, and cooperates with strategic partner AKER, with the help of two core technology patents of Eco-harvesting ecological fishing and Flexitech fresh extraction, loyal to the quality of natural raw materials , Strict selection standards, excellence, and high-end quality have won the recognition of authoritative institutions. Not only has GMP, HACCP, FDA and other international standard professional certifications, but pure Antarctic krill oil products have also been successfully shortlisted for the "OMEGA-3 Product of the Year" list of the Nutra Ingredients-Asia Award 2020, and won the "2021 Best Product of the Year" issued by the international authority ORIVO. Influential and Creative Brand Award"!
In addition to in-depth polishing of quality, NYO3 has also continued to accelerate the layout of product diversification scenarios. It has covered more than 20 dietary and nutritional supplement products in 9 categories such as heart and brain care, liver care, metabolic regulation, joint care, and beauty and beauty, bringing global families to the world. More high-quality and more comprehensive nutritional choices have come, and the rapid rise of "high-end dietary nutrition brands" has been achieved.
With the launch of this "Norwegian Healthy Product Display Month", NYO3 will continue its brand concept as always, comprehensively combine natural nutrition and modern technology, and continuously expand new consumer demands, and compete strongly in the dietary nutrition competition with natural and pure quality from Norway. Do your best to protect the health of the people.
Disclaimer: This article is reproduced from other media. The purpose of reprinting is to convey more information. It does not mean that this website agrees with its views and is responsible for its authenticity, and does not bear any legal responsibility. All resources on this site are collected on the Internet. The purpose of sharing is for everyone's learning and reference only. If there is copyright or intellectual property infringement, please leave us a message.